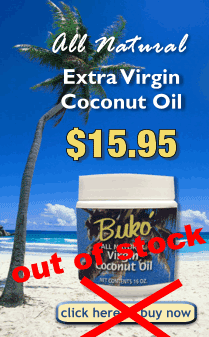 Helps maintain already healthy body weight levels
The healthiest natural oil
Unrefined, non-bleached and non-deodorized
Cold Pressed
Vegan Friendly
Helps Maintain already healthy levels of cholesterol
"I started taking two or three tablespoons of coconut oil each day. I have less cravings, I am getting back to a healthy weight, and I feel more energy than I have in years"
-Mark G
Extra Virgin Coconut Oil is a healthy, versatile unprocessed dietary oil. Our product makes an excellent cooking oil with many health benefits because it is made from organically grown coconuts. You will enjoy the healthy, delicious difference our Extra Virgin Coconut Oil can make in all your cooking!

Suggested Serving: May safely consume 1-4 tablespoons per day. Use in cooking, baking, frying, or in smoothies. Can be used in place of other oils, including butter.

Precautions: If stored below 76 degrees F oil will begin to solidify. If exposed to temperatures above 76 for any length of time, oil will liquefy. Does not require refrigeration.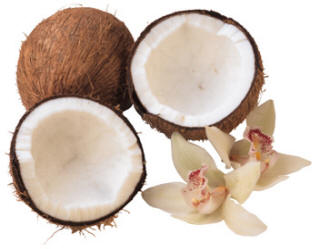 Testimonials
"Using the virgin coconut oil for cooking popcorn in an old time popper sure makes the best popcorn around and it is healthy also." -Noble L
"After I started using coconut oil my energy level has increased" - Mary L
"About 2 years ago, my nutritionist recommended that I find a replacement for butter. I followed her advice and luckily found coconut oil. I have found the taste to be much preferred over butter. My favorites uses are as a spread on my rye toast and for making grilled cheese sandwiches. -Steve B
"The Virgin Coconut Oil tastes great and my kids like it even more than I do. - Libby W
Frequently Asked Questions about Bukó Coconut Oil
How is the coconut oil made
For generations in the Philippines they have been making virgin coconut oil by hand, using a traditional Philippine method of extraction. First the fresh coconuts are opened and the white meat is grated into flakes. Then the flesh is pressed, yielding a fresh coconut milk. This is all done at a very low temperature (cold-pressed). Within about 12 hours the natural enzymes from the coconut will break down this milk protein, releasing the oil. As the oil floats, it is siphoned off and packaged for shipment. This oil is never heated or altered.
What makes it virgin coconut oil?
Virgin coconut oil is oil extracted from fresh coconuts through a natural process, without the use of chemicals, additives, or preservatives. It is called "virgin" due to its pure, raw, pristine, and unadulterated state.
How does virgin coconut oil differ from other coconut oils?
Other coconut cooking oils are derived from copra and undergo chemical refining, bleaching, and deodorizing (RBD) processes prior to being sold. It is clear, yellowish, tasteless, and has lost its natural vitamin content. Virgin coconut oil is made from fresh coconuts and does not undergo RBD processes. Thus, it remains pure and clear, retains the aroma and taste of coconut and still contains natural vitamin E.
How does virgin coconut oil differ from other oils?
Virgin coconut oil is saturated oil, made up mostly of medium chain fatty acids. Other oils such as vegetable oils (corn oil, soybean oil, safflower oil) contain mostly long chain fatty acids, which are polyunsaturated. Olive oil and canola oil are classified as monounsaturated. Medium chain fatty acids make virgin coconut oil unique in terms of digestion and metabolism. Unlike other oils which are digested using bile and pancreatic enzymes, virgin coconut oil goes immediately to the liver and is converted to energy.
What is the best time to consume virgin coconut oil?
In general, you may consume it any time of the day or spread out throughout the day.
My coconut oil is now liquid but when I bought it at the store it was solid. . Is it still okay to consume?
Yes, it's perfectly okay. Coconut oil melts at about 76°F. Below this temperature it is a solid; above, it is a liquid.
Does coconut oil need to be refrigerated and what it the shelf life?
No, coconut oil does not need to be refrigerated. Coconut Oil has a shelf life of at least 2 years.
I have heard that coconut oil is not good for you. Is this true?
Actually Virgin coconut oil is quite beneficial to your body's health and well-being. It contains medium-chain good fats such as Lauric Acid.
Lauric Acid is found in Virgin Coconut Oil, but what does it do?
Lauric acid is a medium chain fatty acid, which is responsible for many of its health benefits. Virgin coconut oil contains 48%-53% Lauric acid. I t is similar to the fats found in mother's breast milk that confers immunity to babies.
How do I cook with coconut oil?
Virgin coconut oil can be used in place of other cooking oils, including butter and can also be added to your favorite fruit smoothie or shake. It can be spread on toast or used as a cooking ingredient. It can be used for pretty much everything that you would cook. See some of our example recipes.
Recipes
Spicy Hot Coconut Sauce Directions:
Heat 3 tablespoons Coconut Oil in a pan, add sea salt, pepper, curry and cayenne spices, then pour over steamed veggies, salad, or grains. Consider adding seeds or nuts to the spiced oil.
Coconut Smoothie
Directions: Blend well. If oil is liquid in summertime, place dish in freezer. Stir to blend up ingredients a few times as the oil hardens. Use a hand (or stick style) immersion blender to make a tasty drink which serves to rinse down supplements and also to give you a good start on the day. The proportions can be varied to suit your own taste and appetite. A large drink normally ends up being about 20 oz. Use any type of fruit or juice that you like and add more or less juice depending on how thick you like the drink.
1 Banana If I have any fresh fruit on hand (blueberries, peaches, etc.) add an amount equal to about half of the banana 2-3 tablespoons of coconut oil (at room temperature; it really doesn't matter if it is solid or liquid) 8-12 ounces of orange juice or any combination of juices that you like (popular blends are a combination of grape or pineapple and orange) 1 teaspoon of coconut fiber. 1 scoop of whey protein concentrate (unsweetened, unflavored whey since it doesn't contain any artificial sweetener.) Blend all of the ingredients until smooth and enjoy!
Pie Crust
Coconut-Oil Pie Crust:

(This makes SUCH a nice flaky pastry!)

3/4 cup unbleached white flour
1/2 cup whole-wheat pastry flour
1/2 tsp baking powder
2 T maple sugar or cane sugar
1/4 tsp salt (I add just the tiniest pinch more, the recipe seems to need it)
1/4 cup coconut oil (measure it in solidified form, in a dry measure)
2 TB. Earth Balance or other vegan margarine (NOT "light" margarine) chilled or frozen
1 tsp apple cider vinegar
3-5 TB ice water

Toss dry ingredients together in a medium bowl. Toss the solidified coconut oil and margarine with the dry ingredients, coating the hardened pieces with flour, which makes the pieces easier to break up and work in.
Work into the flour with your fingers or (preferably) a pastry blender. The coconut oil and margarine should be distributed into different-size pebbles, all of them small. Break up any large clumps or pebbles into smaller pebbles; no pieces should be larger than a pea.

Add the vinegar to the ice water. Drizzle the water into the dough a spoonful at a time, mixing in each as you go. You have enough water in the dough when the dough holds together well when pinched. Do not add any more water than absolutely necessary.

Gather the dough into a ball and flatten it into a disk. Wrap disk in plastic;

The original recipe says to chill for an hour at this point. I have discovered it's too firm to roll out if completely chilled. Try chilling for about 15 minutes.

Roll out on floured board with floured rolling pin - or even easier, just press into pie pan evenly.