Our Products
Here at Bukó Coconut Products we pride ourselves in offering only the purest, all-natural coconut products to promote better health. These are just a few of the high quality products that will soon be available to you. Our fresh, all-natural, high quality coconut products are imported from our exclusive source in the Phillipine Islands. Using our coconut products to enhance your health is easy and tastes good, so get some Bukó to go!
Bukó Virgin Coconut Oil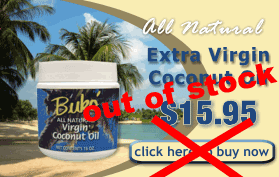 Extra Virgin Coconut Oil™ is a healthy, versatile unprocessed dietary oil. Our product makes an excellent cooking oil with many health benefits because it is made from organically grown coconuts. You will enjoy the healthy, delicious difference our Extra Virgin Coconut Oil™ can make in all your cooking! 16 oz.
Bukó Dietary Coconut Fiber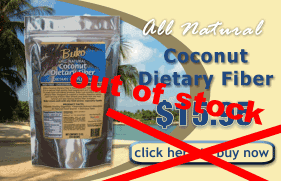 Buko Coconut Dietary Fiber is made from the freshest coconuts. It is a natural high quality food supplement and ingredient used in snack food and baked products. Designed to support a healthy digestive system Buko mixes well with any food source, especially liquids and comes in a convenient, resealable pouch. 12 oz.
For Dealer Inquiries click here.
For a Retailer near you- click here


Home | About Us | Why Coconuts? | Our Products | Dietary Fiber | Virgin Coconut Oil | Contact Us
Dealer Sales | Dealer Locater | In the News | Ordering Info | Privacy Policy | Return Policy
Copyright 2005 Buko Coconut Products All Rights Reserved.